Prizes – IA-CAG Student Poster Competition
Table of Contents
Description
Past IA-CAG Student Poster Competition Winners
---
Description
The CIHR Institute of Aging (IA) and the Canadian Association on Gerontology (CAG) sponsor the Student Poster Competition at each CAG Annual Scientific and Educational Meeting. A prize of $500 is awarded in each of the following categories: Master, PhD, and Post Doctoral.
Posters on topics within any of CIHR's four themes or even across themes are eligible. These themes are:
Biomedical;
Applied clinical science;
Health services and systems research; and,
Social, cultural, environmental and population health.
Graduate students should present research projects based on work undertaken at the graduate level and not at the undergraduate level. Undergraduate students are not eligible.
It is important to note that the poster must stand on its own merit and not require additional verbal explanation. Posters will be judged with students in attendance (mandatory) by three judges at appointed times during the CAG Annual Scientific and Educational Meeting.
To enter the competition, you must submit an abstract to the general CAG Call for Abstracts noting the formats for the Poster Session, and indicating your intent to participate and your trainee category: Master, PhD, Post Doctoral, on the form.
For questions about submitting a poster application through the CAG Call for Abstracts contact the CAG secretariat.
For more information on this prize please visit the Canadian Association on Gerontology Website.

Past IA-CAG Student Poster Competition Winners
2007
Master
Valérie Poulin (Université de Sherbrooke): Factors Influencing the Validity of Proxy Information to Assess Social Participation after Stroke
Doctoral
Sander Hitzig (York University): Time of Day and Age Effects on Executive Functioning: Inhibition, Updating and Shifting
Malini Persaud (University of Toronto): Pleasure in the Daily Lives of People Living with Advanced Dementia in a Long-Term Care Facility: Multiple Case Study Approach
Post Doctoral
Dr. Danielle St-Arnaud McKenzie (Université de Montréal): The Contributory Role of Meals to the Evolution of Nutritional Status in Hospitalized Geriatric Patients
---
2006
Master
Stephanie Brown (University of Ottawa): Gender differences in discharge destination following TBI
Doctoral
Linda Wood (University of Manitoba): Life chances and health choices: An examination of the relationship between social factors and personal health practices across age groups
Post Doctoral
Rossitza Nikolova (Institut universitaire de gériatrie de Montréal): Catastrophic decline and functional status
Patricia Ebert (Kunin Lunenfeld Applied Research Unit, Toronto): Predictors of memory compensation strategies in healthy older adults
---
2005
Masters
Christian Bergeron (Université de Sherbrooke): Traduction et Validation du Worry About Victimization (WAV) auprès d'une population âgée
Andrea Gruneir (Brown University, RI): An Examination of Depression in Patients with Advanced Illness - Prevalence, Treatment, and Correlates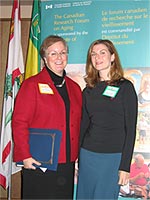 Doctoral
Shireen Surood (University of Calgary): Role of Acculturation in Depressive Symptoms of Older Chinese Immigrants In Canada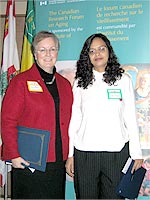 Post Doctoral
Maureen Ashe (GF Strong Rehab Centre, Vancouver): Association Between Physical Activity and Health Care Resource Utilization Among Older Adults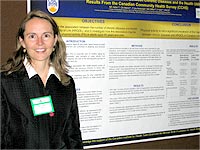 Resident/Medical Fellow
David Jones (Dalhousie Internal Medicine Program): Is the Common Infeasibility of Performance-Based Measures of Mobility and Balance Informative? Long-Term Outcomes in Relation to Missing Data in The Canadian Study of Health and Aging.
---
2004
Master
Peter Laycock (University of Calgary): Relocating Veterans: Perceptions of Preparation, Control, and Change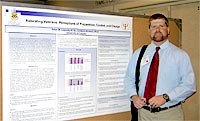 Doctoral
Philip Berardi (University of Calgary): Chromatin Remodeling During Call Aging and Oncogenic Transformation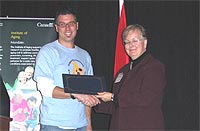 Date modified: