Research Profiles - Vaccines for the 21st Century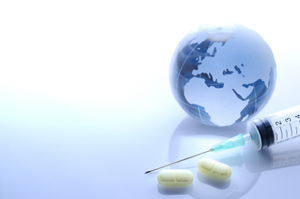 From diphtheria, pertussis (whooping cough) and measles, to polio, meningitis and hepatitis A, vaccines were the most effective and life-saving health-care intervention of the 20th Century. A decade into the 21st Century, research into the development of new vaccines has accelerated to meet antibiotic-resistant infections and emerging infectious threats, as well as to combat cancers and other diseases that were once thought invincible.
Researchers are viewing vaccines in novel ways: for treatment as well as prevention, and as agents to spur the body's own immune system on to create cures. CIHR-supported researchers are at the forefront of developments to deliver and enhance immune responses and to create new vaccines in both animals and humans. Canadian successes in vaccine research include:
an acellular pertussis vaccine;
a candidate vaccine for Severe Acute Respiratory Syndrome (SARS);
a cattle vaccine against E. coli 0157:H7;
the development of vaccine technology to prevent meningitis;
candidate vaccines against hemorrhagic fevers;
the preparation for and assessment of the impact of human papilloma virus (HPV) immunization in Canada;
the development of therapeutic cancer vaccines;
the safe administration of vaccines produced in eggs to egg-allergic individuals;
the evaluation of influenza vaccination strategies and transmission dynamics within a community; and,
the development of new vaccination strategies for Human Immunodeficiency Virus (HIV-1).
Dr. Jan Dutz's research illustrates the new approaches Canadian teams are taking with adjuvants to boost the body's immune response to vaccines, while both Dr. Brian Ward and Dr. Réjean Lapointe's labs are focusing on the exciting possibility of plant-based viruses to manufacture cheaper, more accessible vaccines.
Even as the promise of these new vaccines invigorates the health-care community, other Canadian researchers are studying ways to ensure that promise is fulfilled for all sectors of society. Dr. Peter Newman and Dr. Charmaine Williams are investigating what healthcare professionals need to do to ensure future HIV vaccines reach Aboriginals and black women, two groups at higher risk for HIV infection; and Dr. Janice Graham and her team are studying regulatory regimes and practices, to learn how best to explore the scientific and public issues surrounding safety and effectiveness of vaccines.
Together, Canadian researchers are contributing critical evidence that we need to deliver on the promise that vaccines hold for improving the quality of our life in the 21st Century.
Dr. Marc Ouellette
Scientific Director
CIHR Institute of Infection and Immunity
Dr. Morag Park
Scientific Director
CIHR Institute of Cancer Research
Date modified: