CIHR and the Indian Council for Medical Research (ICMR) renew a collaborative agreement on health research
India-Canada Joint Health Research Collaboration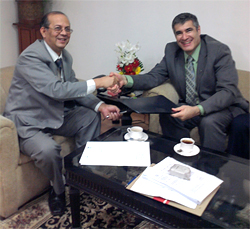 Dr. V.M. Katoch, Secretary, DHR and Director
General (ICMR) and Christian Sylvain, Director
Strategic Policy and External Relations (CIHR)
New Delhi, India - On March 17, 2011, the Canadian Institutes of Health Research (CIHR) and the Indian Council for Medical Research (ICMR) signed the renewal of a five-year umbrella agreement to support joint health research and promote the development of scientific cooperation between universities, hospitals, research institutes and affiliated research organizations in Canada and India.
Much progress was made since the first MOU was signed between CIHR and ICMR in 2005. A few initiatives have flourished from the collaboration, notably the funding of two successful childhood obesity research projects announced in November 2010.
In conjunction to the signing of the agreement, CIHR-Institute of Human Development, Child and youth Health (CIHR-IHDCYH) and the Centre for Child Health and Nutrition (ICCHN) co-hosted a workshop on Monitoring and Reducing Maternal, Fetal, and Neonatal Mortality and Serious Morbidity in India.
Building on the shared intention to grow the bilateral cooperation, and on the outcomes of the workshop, ICMR and CIHR are currently discussing a possible launch of a request for applications, in the fall of 2011, tentatively titled "Monitor, Analyze, Act: Assessing and Reducing Maternal, Fetal and Neonatal Mortality and Serious Morbidity in India" with committed funding of $1 million over 4 years from CIHR-IHDCYH.
In addition to the cross-cutting themes of interests, including knowledge translation, research capacity building, mobility and gender and health, ICMR and CIHR will focus their bilateral collaboration in a number of research areas, including:
Human Development, Child and Youth Health
Infection and Immunity
Neurosciences, Mental Health & Addiction
Chronic Illness
Population and Public Health
About Indian Council for Medical Research
ICMR is one of the oldest medical research councils in the world. Established in 1911, as the Indian Research Fund Association (IRFA) by a handful of British officers of the then Indian Medical Services. In 1950, soon after India's independence, the IRFA was re-named the Indian Council of Medical Research. The ICMR Headquarters has today blossomed into a vibrant network of 29 Institutes and over 70 field stations in various parts of the country, employing over 5,000 personnel. Its mission is to conduct research (both fundamental and applied) to find solutions to India's health issues. The ICMR has an intramural and an extramural research programme. It is an autonomous organization within the Department of Health Research (DHR), and fully funded by the Ministry of Health & Family Welfare, Government of India.
About Canadian Institutes of Health Research
For the past 10 years, the Canadian Institutes of Health Research (CIHR) has supported better health and health care for Canadians. As the Government of Canada's health research investment agency, CIHR enables the creation of evidence-based knowledge and its transformation into improved treatments, prevention and diagnoses, new products and services, and a stronger, patient-oriented health-care system. Composed of 13 internationally recognized Institutes, CIHR supports more than 13,600 health researchers and trainees across Canada.
Date modified: