Research Profile - Not Your Father's Drug Store
As pharmacists take on more responsibilities in providing primary health care, patients are beginning to see their local drug store as much more than just a retail outlet.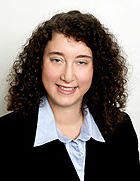 Dr. Lisa Dolovich
Until recently, getting a prescription filled meant dropping off a doctor's scrawled note, killing time at the magazine rack and then listening while the pharmacist ran through the potential side effects – often while those next in line perked up their ears.
But pharmacies and pharmacists are changing and peoples' perceptions are shifting along with them, says Dr. Lisa Dolovich, Associate Professor at McMaster University.
"There is the front shop of the pharmacy that may have everything from diapers to perfume," says Dr. Dolovich. "But there's also the back part that is looking more like a place you'd go to find someone who can help with health-care questions or concerns. Many pharmacies now have private consultation rooms where the pharmacist can talk with the patient."
Dr. Dolovich, who leads several research projects funded by the Canadian Institutes of Health Research (CIHR), says the public is embracing the change out of a need to know more about the drugs they are taking.
"More and more, people see pharmacists as their go-to person for questions about medications and for working through the complexities of multi-medication regimens. For example, people 65 and over now take an average of eight daily medications. They often have questions, issues and challenges and see their pharmacist as one of the best resources to help sort through the complexity and to provide more in-depth and accurate information."
Dr. Dolovich predicts pharmacists will move toward providing more appointment-based services to meet with patients and assess their medications. She foresees a near future in which "you would go to the pharmacy with the expectation of spending time with the pharmacist the same way you know you're going to spend time at your doctor's office."
Recent studies indicate that enhancing the pharmacist's role in the provision of primary care pays health dividends. Dr. Dolovich co-authored a report published in the British Medical Journal in February that showed how holding cardiovascular risk assessments and education sessions at community-based pharmacies in 20 mid-sized Ontario communities helped to significantly reduce hospital stays among people 65 and older. The report builds on earlier research funded by CIHR.
"What we found with this intervention is that having the pharmacist work together with the family physician, community organizations and public health nurses reduced hospitalization for heart attacks, strokes and heart failure," says Dr. Dolovich. "It's a tangible example that when pharmacists are part of an interdisciplinary health-care team, it makes a difference to health outcomes."
Increasingly, pharmacists are becoming part of the provision of primary care, says Dr. Dolovich.
"Across the country, there is new legislation being introduced and new services that pharmacists are able to provide. Although an unusual situation is emerging in Canada because provinces are not putting quite the same laws and services in place," explains Dr. Dolovich. "In Ontario, Saskatchewan and Alberta, some pharmacists work right in family physicians' offices. They're there to work side by side with the other members of the health-care team when reviewing a patient's medications and looking at their chronic conditions to make sure they're on the best medications. We have about 300 pharmacists across the country in that role."
In the corner drug store, however, pharmacists still have some work to do to make their clients comfortable with their new and enhanced role in health care, she acknowledges.
"It depends on the pharmacist and how much they want to get involved in this type of newer work. Some pharmacists, especially those who've graduated more recently, are trained to think about delivering patient care and how to talk to patients to explain that they are there to spend time with them to focus directly on health-care concerns."
"More and more, people see pharmacists as their go-to person for questions about medications and for working through the complexities of multi-medication regimens."
– Dr. Lisa Dolovich, McMaster University and University of Toronto
Date modified: