Research Profile - 32,000 Points of Contact
Canada's pharmacists have the capacity to provide 'real world' monitoring of a drug's safety and effectiveness, says a University of British Columbia researcher.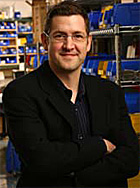 Dr. Carlo Marra
It is a virtual health-care army, stationed coast to coast: there currently are over 32,000 licensed pharmacists and more than 8,400 community pharmacies across Canada, according to the National Association of Pharmacy Regulatory Authorities.
It is a force that the University of British Columbia's Dr. Carlo Marra would like to see recruited to conduct "active surveillance" of post-market drug safety and effectiveness.
Pharmacists represent, for the majority of Canadians, the most frequently accessed point of contact in primary health care. "On average, patients see their pharmacist about seven times more often than they see their family practitioner," says Dr. Marra. "So, pharmacists are uniquely situated to identify whether a patient is on some kind of targeted therapy or has some targeted health condition."
In other words, pharmacists are in an ideal position to gather data when there are concerns that a particular drug might be having an unwanted or adverse side effect.
"With pharmacists, you can do a very quick and easy, focused study in which anyone who presents with a prescription could be recruited and asked specific questions to follow up what happens," says Dr. Marra. "The pharmacist knows they are a user and has regular contact with them. When they come in, there is the opportunity to collect – in a relatively rapid fashion – extra data and do some monitoring to see how things are progressing. That way, you could recruit a large number of patients for real-world use of a drug, rather than doing it within the confines of a randomized controlled clinical trial."
Dr. Marra recently co-led a one-year pilot project to examine the feasibility of using community pharmacists to determine whether or not pregnant women in British Columbia are getting safe anti-hypertension treatment, if they need it. The study was launched by the Drug Safety and Effectiveness Network (DSEN), which was established through a partnership between the Canadian Institutes of Health Research (CIHR) and Health Canada.
Dr. Marra recruited about 30 pharmacists across British Columbia who monitored the health of almost 100 pregnant and/or lactating women over six months.
"Our goal was to show how well pharmacists could recruit women who are pregnant and/or lactating and assess what their drug therapies were. In a subset, we followed up on women's blood pressure, measuring it at the pharmacy and creating data. We definitely can declare success for a number of issues, including the fact that we found some people with undiagnosed hypertension."
Pharmacists were keen to participate, Dr. Marra says, even though there was no remuneration involved and some education – through classes and webinars – required. "They just did it out of their own good graces and fit it into their already busy schedules."
Based on the success of the pilot project, Dr. Marra and colleagues are making plans to assemble a cross-Canada network of pharmacists to investigate a variety of drug-related concerns and drug surveillance issues.
"We're hopeful DSEN will be an important user of this research as they move forward and start influencing policy. We hope that decision makers will see the value of not only having pharmacists participate in active surveillance, but enact legislation so that pharmacists have that as part of their professional portfolio."
"With pharmacists, you can do a very quick and easy, focused study in which anyone who presents with a prescription could be recruited and asked specific questions to follow up what happens."
– Dr. Carlo Marra, University of British Columbia
Date modified: