Research Profile - When You Can't Come to the Counsellor
Mental Health Treatment Comes to Rural Residents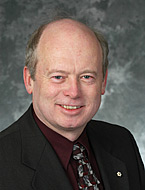 Dr. Patrick McGrath
Families in rural or remote communities whose children suffer from anxiety, attention deficit hyperactivity disorder or oppositional defiance disorder struggle in the same ways as urban families do. But in small towns or remote communities, travelling to find expert help poses unique challenges.
The problem is equally difficult for adults trying to access treatment for anxiety or depression, compounded by the stigma that accompanies mental health issues. In a small town, it's easy for a community member to spot a local resident's truck at a mental health clinic, prompting intrusive questions at the grocery store. It's also expensive and difficult for people – especially those who don't have reliable transportation – who have to book time off work and travel long distances to a larger city to overcome barriers to the services they need.
That's why CIHR-supported researcher Dr. Patrick McGrath and his team at Dalhousie University and the IWK Health Centre in Halifax have developed a telephone-based cognitive behavioural therapy program that is dismantling those barriers and changing the lives of rural families.
The program, called Strongest Families, pairs families whose children are suffering from mild to moderate anxiety or behavioural disorders with a trained coach who takes parents (and sometimes children and youth) through a 10-week program that builds their behavioural management skills. The coaches, who are not health-care professionals, are paid and supervised by Dr. McGrath and other therapists.
The program incorporates use of a handbook, DVDs or videos and weekly telephone coaching sessions that take place on weekends or evenings – times convenient to families.
"We recognize that being in a chaotic family is part of the problem," says Dr. McGrath. "Because we treat kids (and families) in the privacy and comfort of their own home, it's a lot easier for them."
Families whose children have more severe mental health issues, or whose conditions worsen, are referred to other care providers – such as the Cape Breton District Health Authority's Child and Adolescent Mental Health Services. That service saw an increase of 20% in the number of patients it treated the first year that Strongest Families was launched, and an increase of another 20% the following year, according to Dr. Julie MacDonald, the psychologist who manages the District's mental health services for children and adolescents.
The increased referrals suggest that the screening process – along with the District's services – is meeting a need.
"Screening by telephone seems to have broken down a barrier," Dr. MacDonald says.
Overall, the distance program is producing such good results that Dr. McGrath and his team are forming a not-for-profit company to expand Strongest Families. After one year, 76% of the children whose families were enrolled in the Strongest Families program had reduced symptoms of anxiety, oppositional defiance disorder or attention deficit hyperactivity disorder, Dr. McGrath's research demonstrates.
Currently, Strongest Families has contracts in Nova Scotia, Alberta and Northern Ontario to deliver the program to families in rural and remote communities. They are also looking for other agencies with which to partner.
"It's made a huge difference," says Brenda Williams.
Williams and her husband enrolled in the program after their eight-year-old daughter's anxiety and trouble focusing and paying attention created behavioural difficulties. At one point, she refused to eat for almost a week. After contacting a mental health agency, the family was told they'd wait six months to a year, and appointments would require travel. Following 11 weeks in the Strongest Family program, the Williams' daughter has no sign of her original anxiety problems.
"The program changes the parents, who in turn change the child," says Williams. "Strongest Families taught us there is always more to learn."
Accessing mental health services – even in big cities – is one of the biggest problems that desperate families report, as Mental Health Commissioner Michael Kirby learned when he chaired a blue-ribbon panel on mental health in Canada.
"Mental health is a mess," says Dr. McGrath. "There have been dozens and dozens of trials that have shown the effectiveness of parent training for (improving) kids' behaviour problems. But the delivery system has to be improved."
"Because we treat kids (and families) in the privacy and comfort of their own home, it's a lot easier for them."
– Dr. Patrick McGrath, Dalhousie University
Online help
In southern Saskatchewan, help for some people with depression and anxiety is now as close as the click of a mouse.
Researchers at the University of Regina are adapting Internet-based cognitive behavioural therapy programs from Australia and Sweden to treat people with anxiety, panic disorders and depression who live in rural communities. Mental health therapists are scarce in these communities, where overburdened general practitioners often lack the specialized knowledge and skills necessary to help these patients.
Although about 5% of Canadians suffer from depression in any given year, only 32% of those who have the symptoms of a mental health disorder actually talk to or visit a health professional.
So Dr. Heather Hadjistavropopoulos and her team, including CIHR-supported Master's student Lindsay Friesen, have trained about 37 students in the fields of social work, clinical psychology and medicine to deliver standardized cognitive behavioural therapy programs over the Internet.
"This way somebody in Regina can help somebody in a rural area," says Friesen. "As long as they meet the screening criteria, have Internet access, a computer, and are comfortable using that computer, we are able to have them as clients."
After an initial telephone screening, clients complete exercises and can email their therapists as often as they like, throughout a 12-week module. The therapists (all supervised by clinical psychologists) monitor how well their patients are progressing. They teach their clients techniques to manage anxiety, for example, using cognitive and behavioural skills, taught via online text, audio and videos.
Previous studies have shown that therapist-assisted, Internet-based cognitive behavioural therapy is effective in reducing depression and anxiety, says Friesen. The Canadian team is now trying to replicate international studies, in a real-world setting, with community therapists and students.
"Research has shown it to be advantageous because it is accessible, inexpensive and also private," says Friesen.
So far, four different health regions in Saskatchewan are participating in the project, accessible at Online Therapy USER, and the University of Regina team has trained about 70 "e-therapists." The first clients have just finished the program.
Friesen believes the project is an excellent way to provide quality, evidence-based service to people who would not otherwise get the help.
"Everybody should have equal opportunity to access mental health services," says Friesen.
Date modified: