Annual Report 2010-2011
Moving Forward
Investing in World-Class Research Excellence
A World of Excellent Ideas
CIHR is committed to excellence in health research. But what does "excellence" mean? How is it measured? And, most important, how is it nurtured and sustained?
Excellence in research takes many different forms:
breaking down, studying and analyzing a health risk, such as tobacco use, and transforming the knowledge gained into a health promotion tool to reduce the incidence of smoking;
having communities identify health needs and developing the tools and the means to meet those needs;
bringing the perspectives and insights of many different disciplines to bear on creating and perfecting a simple and elegant solution to a complex problem;
delving into the social and biological forces that shape who we are; and
transforming findings into real-life programs and policies.
While the specific expression of excellence may differ, the means of achieving it remain the same: identifying and investing in the best and strongest ideas and empowering dedicated individuals and robust, talented, diverse teams to maximize the potential of those ideas.
CIHR-Supported Researchers: International Award Winners 2000-10
2005 Lasker Award for Basic Medical Research
James Edgar Till and Ernest Armstrong McCulloch, Ontario Cancer Institute: for explaining the function of hematopoietic (blood-based) stem cells and providing the theoretical underpinning for bone marrow transplantation.
2008 Kyoto Prize in Basic Sciences
Anthony Pawson, the Samuel Lunenfeld Research Institute of Toronto's Mount Sinai Hospital: for proposing and proving the concept of adapter molecules, thereby establishing a basic paradigm in intracellular signal transduction and contributing significantly to the subsequent development of the life sciences.
Gairdner International and Wightman Award Recipients
2011 - Michael Hayden, University of British Columbia for identifying genes for rare disorders and advancing understanding of genetic and molecular pathways leading to Huntington's disease.
2010 - Calvin Stiller, University of Western Ontario and Ontario Institute for Cancer Research for pioneering work in transplantation and diabetes, and as a remarkable entrepreneur and builder of private and public institutions that enriched the research landscape.
2009 - David Sackett, McMaster University for leadership in the fields of clinical epidemiology and evidence-based medicine.
2008 - Alan Bernstein, Global HIV Vaccine Enterprise for outstanding contributions as a scientist, research institute director and as the inaugural President of CIHR.
2008 - Nahum Sonenberg, McGill University for pioneering discoveries in cellular translation of genetic information.
2008 - Samuel Weiss, University of Calgary for the discovery of adult neural stem cells in the mammalian brain.
2006 - Allan R. Ronald for leadership in developing the specialty of clinical infectious disease in Canada and for exceptional international contributions in Africa.
2005 - Endel Tulving, Rotman Research Institute of Baycrest Centre in Toronto for pioneering research in the understanding of human memory.
2005 - Brenda Milner, McGill University for pioneering research in the understanding of human memory.
2001 - Henry Friesen, University of Manitoba for leadership in the field of medical research.
2000 - Jack Hirsh, McMaster University for contributions to the diagnosis, prevention and treatment of thromboembolic disorders.
Number of Grants by Duration Range (in months)
CIHR's open operating grants program remains the primary vehicle through which we invest in excellence. This program provides the foundation for researchers in a variety of disciplines to express their passion and their creativity. It creates the environment within which a broad spectrum of ideas can take shape and flourish. While we can't support every great idea, the open operating grants program provides a broad scope of investment in a number of critical research areas and positions our best and our brightest minds to explore and implement their ideas. As the following chart illustrates, not only has the number of grants grown substantially since 2000, but the duration of investigations has also increased — indicating greater depth of research.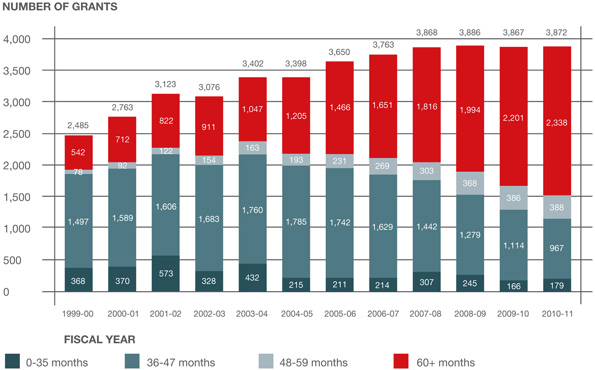 Average Relative Impact Factor in Selected OECD Countries
(2000 to 2008)
Average Relative Impact Factor (ARIF) is an indicator of the quality of journals in which research results are published. The following chart shows Canada stands among the leaders in OECD countries.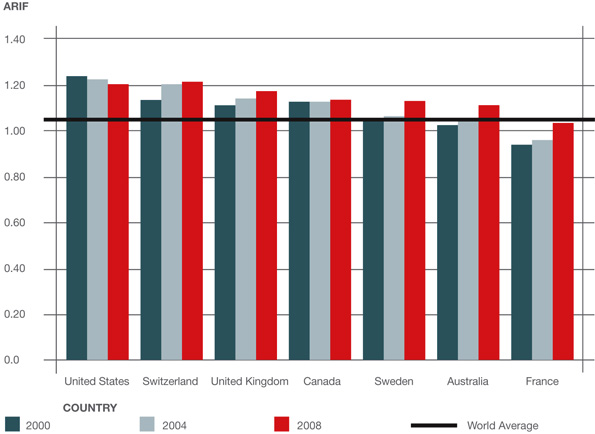 The Banting Fellowships - Encouraging the Best in the World
In July 2010, the Government of Canada unveiled a bold new program to attract and retain the best young researchers in the world and spoke of the importance of giving promising scholars financial support.
"To remain at the forefront of the global economy, we must invest in the people and ideas that will produce tomorrow's breakthroughs," said Prime Minister Stephen Harper. "The Banting Postdoctoral Fellowships will give scholars in research institutions across the country the support they need to explore and develop their ideas to their fullest potential."
Within a month of the Prime Minister's announcement, CIHR, in collaboration with the two other councils, began promoting the program across Canada and around the world. Named after the Canadian who discovered insulin, the Banting Fellowships is the first tri-council funding program in which CIHR is the lead. The first cohort of 70 Banting Fellows, divided equally between CIHR and the two other granting councils, the Natural Sciences and Engineering Research Council (NSERC) and the Social Sciences and Humanities Research Council (SSHRC), was selected in March 2011.
Building on the success of the Vanier Canada Graduate Scholarships program, which was launched in 2008 to attract and retain the world's best doctoral students, the Banting Fellowships will enable Canada's best postdoctoral fellows to conduct innovative research at institutions in Canada or around the world. It will also attract the world's best postdocs to Canada to pursue great work here. Valued at $70,000 a year for two years, these prestigious fellowships will be awarded yearly to young investigators with exceptional track records and leadership potential.
"The Banting Fellowships have quite quickly become Canada's most prestigious and sought-after award for postdoctoral researchers," said CIHR President Dr. Alain Beaudet. "As of 2012, we will have 140 of the top young minds in research bringing innovative new approaches to discovery and application."
Dr. Suzanne Fortier, President of NSERC, said the Fellowships program "makes Canada a first-class destination for the world's best and brightest scientists and engineers at a pivotal time in their careers." SSHRC President Dr. Chad Gaffield agrees. "In a time of increasing efforts to understand human thinking and behaviour, these fellowships will enhance our knowledge of people and will help to develop the talented leaders needed across all sectors of society."
CIHR-Supported Postdoctoral Fellowships by the Numbers
750 new and existing CIHR postdoctoral fellowships supported through direct awards.
1,200 postdoctoral fellowships supported indirectly, through grants.
170 postdoctoral fellowships to be awarded in 2011-12, up from the previous level of 140.
658 eligible applications received in 2010 for 70 Banting Postdoctoral Fellowships awards.
$21 million budgeted for postdoctoral fellowships over five years in 2010-11, up from $12 million in 2007-08.
Former postdocs advance new diabetes treatment
Researchers at the University of Calgary are conducting a pilot study of a new treatment for diabetic neuropathy, a debilitating and painful nerve condition that strikes about 50% of people with diabetes. Dr. Douglas Zochodne said encouraging results from years of animal tests have led to the early-stage clinical trial of intranasal delivery of insulin. Drs. Lawrence Korngut and Cory Toth, both former CIHR-supported postdoctoral trainees in Dr. Zochodne's lab and now his colleagues, lead the work. The idea behind the therapy is to deliver insulin directly to neurons in the peripheral and central nervous system, where it can assist them in stabilizing blood sugar levels.
Postdoctoral fellow throws new light on impact of exercise for women
Women are less likely to develop diaphragm fatigue during exercise than men are, according to a groundbreaking study by Queen's University postdoctoral fellow Dr. Jordan Guenette. Because the diaphragm is the primary muscle involved in breathing, there are important clinical implications to understanding its fatigue characteristics. However, because previous studies have been conducted in men, little is known about how the diaphragm functions and responds to exercise in women. Dr. Guenette's study, which was carried out while he was at the University of British Columbia and published in the Journal of Applied Physiology, is the first to use the most accepted and validated methods to characterize diaphragmatic function in women during exercise and to compare responses between sexes. Contrary to his initial hypothesis, men were more likely than women to develop diaphragm fatigue during exercise.
Canada-China Collaboration - Connecting Colleagues Oceans Apart
Beginning with small steps, Canada and China have now made huge strides in international cooperation in health research.
In October 2010, CIHR and the National Natural Science Foundation of China (NSFC) renewed a five-year agreement to support joint health research projects. Initiated in 2005, this dynamic partnership has already co-funded 89 joint research projects which will result in a total CIHR investment of almost $11 million. The renewal will further support up to 45 new research projects for an additional CIHR commitment of approximately $10 million.
The year 2010 also marked the creation of six $1-million joint research teams that are working on three-year collaborative projects to tackle major health problems affecting both countries. The teams are up and running as a result of CIHR's agreement with China's Ministry of Science and Technology. The teams, which will develop long-term institutional partnerships, will receive a maximum of $1 million in co-funding.
McGill University's Dr. Mark Wainberg said his Canada-China project, Development of New Strategies to Target HIV Replication and Stimulate anti-HIV Post-Exposure Immunity, builds on an established relationship and likely will lead to further collaborations and, potentially, the development of new drugs.
"We have been in long contact with Dr. Qi Jin (the team's Chinese Principal Investigator) and have a collaborative relationship in place based on mutual cooperation and respect," said Dr. Wainberg. "We're going to China in the next six months to further build up the relationship. It will move forward from there with more interchanges and more people coming over from China. I hope that the progress will be very palpable. If we could take advantage of some of their natural herbs and put some of them through our screening assays, ideally we will be able to help them to get on the bandwagon with new drug development."
University of British Columbia neuroscientist Dr. Weihong Song, who played a key role in the signing of the original Canada-China memorandum of understanding, is enthusiastic about the program:
"The program was very well received by both sides, in Canada and in China. The initial grants were almost like seed money, they helped establish new international collaborations that otherwise would not have happened. Now researchers in China and Canada are actively looking for partnerships on the other side of the ocean. It means we can communicate with each other, exchange personnel and exchange ideas. We can start new adventures. This is real research collaboration."
To apply for program funding, Canadian and Chinese researchers submit identical applications to CIHR and NSFC for initial external reviewing. A joint Canada-China peer review committee then selects grant recipients. Although the grant money provided for the three-year projects was initially small — $30,000 a year from CIHR for each Canadian participant, with China funding its participant for a similar amount — the program was quite popular. "There were over 100 partners applying in the first round," said Dr. Song. The yearly awards have since been increased to $75,000. But it isn't about the money, according to China's Dr. Kun Xia, Deputy Director, State Key Laboratory of Medical Genetics of China at Central South University. It's about collaboration:
"As a researcher, I know collaboration is very important, but it is not easy to establish a real collaboration. Sometimes, there is only simple communication between the collaborators. This CIHR-China program actually provides a good opportunity to establish a close collaboration, because it is based on research projects. In addition, based on the research findings, it is possible to establish more projects between the collaborators. This is very important to accelerate the collaboration between Canada and China."
Canada-China Collaborations by the Numbers (2005-11)
89 Canada-China joint health research projects funded since 2005 which will result in a total of almost $11 million in CIHR investment.
6 Canada-China collaborative teams in health research funded during 2010-11, for a total of $2.9 million in CIHR investment.
150+ journal articles published by Canadian and Chinese researchers during 2005-11, arising from collaboratively funded projects.
International Investment Collaborations by the Numbers
International expenditures have grown twofold, from 5.5% to 10% of the total CIHR budget since 2000.
Approximately 3,300 grants and awards with international linkages have been funded.
Waterloo researcher warns of China's tobacco epidemic
A tobacco epidemic is raging in China, where more than 50% of men smoke and approximately 1 million smokers die of tobacco-related diseases each year. The 20-country International Tobacco Control (ITC) Project, led by Dr. Geoffrey Fong of the University of Waterloo, recently published a supplement of 11 articles reporting on its findings in China in the journal Tobacco Control. One article reported that Chinese cigarettes have levels of lead, cadmium and arsenic three times higher than Canadian cigarettes. This constitutes a global public health concern, because exports of Chinese cigarettes continue to increase.
Global Health Research Strategy - Making a Stronger Impact
From developing drugs to defeat parasitic diseases in Africa to examining the health consequences of slash-and-burn land-use practices in Brazilian rainforests, global health research presents unique opportunities to engage a range of disciplines and sectors — public, private and charitable — to address complex health and health systems problems.
While investing in global health research has always been a key component of CIHR's scientific agenda, 2010-11 marked a significant step forward in strengthening this commitment. CIHR produced a Global Health Research Strategy to increase the impact of current and future initiatives. The Strategy strives to:
integrate and incentivize global health across CIHR; and
foster and support external partnerships that target research priorities.
"CIHR's position statement on global health research will help guide and bring greater policy coherence to our global health research, capacity building and knowledge translation investments involving Canadian and low- and middle-income country collaborations," said Dr. Nancy Edwards, Scientific Director of CIHR Institute of Population and Public Health and CIHR Global Health Champion.
Having set goals in place ensures that CIHR's interdisciplinary investments in global health align with the strategic directions set out in the 2009-14 Health Research Roadmap. Importantly, the Global Health Research Strategy builds on the progress already made.
For example, the Canadian HIV Vaccine Initiative (CHVI) — a collaboration between the Government of Canada and the Bill & Melinda Gates Foundation — represents Canada's contribution to the Global HIV Vaccine Enterprise. CIHR, in partnership with the Public Health Agency of Canada, the Canadian International Development Agency, Health Canada and Industry Canada, leads the Advancing Basic Science funding stream. Working with CIDA, CIHR launched a $17-million CHVI Large Team Grant in 2010-11 to fund four partnerships between Canadian researchers and their counterparts in low- and middle-income countries.
CIHR - Tools for Global Health Research
Canadian HIV Vaccine Initiative
Goal To develop a safe, effective, affordable and globally accessible HIV vaccine.
Partners The Bill & Melinda Gates Foundation, Canadian International Development Agency, the Public Health Agency of Canada, Industry Canada and Health Canada.
CIHR Investment With CIDA, CIHR launched a $17-million Large Team Grant in 2010-11 to fund four Canada/international partnerships. Canada is investing up to $111 million, and the Bill & Melinda Gates Foundation is contributing up to $28 million through 2017.
Global Alliance for Chronic Disease
Goal To fight chronic non-communicable diseases.
Partners United States National Heart, Lung and Blood Institute, Fogarty International Center and National Institute of Mental Health; the United Kingdom's Medical Research Council; Australia's National Health and Medical Research Council; China's Academy of Medical Sciences; the Indian Council for Medical Research; the Medical Research Council of South Africa; and the Qatar Biomedical Research Institute.
CIHR Investment CIHR will contribute $2.5 million of the $5-million Canadian commitment to the Alliance's initial $22-million research program.
Global Health Research Initiative
Goal To improve maternal and child health, respond to emerging infectious diseases and strengthen health systems in regions throughout the world.
Partners The International Development Research Centre, the Public Health Agency of Canada, Health Canada and the Canadian International Development Agency.
CIHR Investment Approximately $22 million of the $71-million total by 2015.
Grand Challenges in Global Health Initiative
Goal To discover and develop scientific breakthroughs for preventing, treating and curing diseases that kill millions of people each year in developing countries.
Partners The Bill & Melinda Gates Foundation, the Foundation for the National Institutes of Health, Grand Challenges Canada and the Wellcome Trust.
CIHR Investment Since 2005, CIHR has contributed $5.65 million of the $458 million total in grants to scientists from 33 countries.
Grand Challenges Canada
Goal To support the best minds in the world in a collaborative search for solutions to global challenges.
Partners The International Development Research Centre. Host: the McLaughlin-Rotman Centre for Global Health.
CIHR Role Grand Challenges Canada is the delivery mechanism for the $225-million Development Innovation Fund announced in the 2008 federal budget. By administering international peer reviews, CIHR evaluates grant applications and ensures excellence in Grand Challenges Canada projects.
International Research Initiative on Adaptation to Climate Change
Goal To advance knowledge, shape policy and programs, mentor students and facilitate networks in adaptation to climate change.
Partners The International Development Research Centre, the Natural Sciences and Engineering Research Council and the Social Sciences and Humanities Research Council.
CIHR Investment Up to $3 million of a total of $15 million.
Canada-Hope Scholarship Program
Goal To connect promising individuals from low- and middle-income countries with mentors in the Canadian research community and expose them to some of the best science, laboratories and training environments in Canada.
Partner Sanofi-aventis.
CIHR Investment CIHR has matched a $1.7-million grant from sanofi-aventis.
Stopping emerging infectious diseases in Sri Lanka before they start
Identifying the emergence of infectious diseases — 75% of which arise from animals — is a critical step in protecting health. By building the capacity of local researchers in Sri Lanka to track potential health threats, University of Calgary researcher Dr. Craig Stephen said he is seeing "tangible changes in policy, practices and perspectives within a comparatively short timeframe." Dr. Stephen leads a Teasdale-Corti team investigating veterinary public health practices as part of a global response to emerging diseases. "Because the Global Health Research Initiative has an explicit capacity-building goal, it really helped us to focus on action-oriented research, which is the ethos of global health. I don't care as much about publishing the paper as I care about effecting change in the groups that we came to help, and the Teasdale-Corti Team Grants program is very supportive of that perspective." His team is developing innovative, front-line methods of surveillance for emerging diseases. "The work we've done... has formed the foundation of a fundamental change in how Sri Lanka mobilizes its livestock surveillance."
Sleeping sickness treatment could save thousands of lives
Human African trypanosomiasis — better known as "sleeping sickness" — takes 30,000 lives each year, and is the work of a parasite predominantly found in the developing world. Until now, there has been no effective treatment. But scientists at the United Kingdom's University of Dundee and University of York, working in collaboration with the CIHR-supported Structural Genomics Consortium (SGC) in Toronto, have reported in Nature that they have found a potential new drug target for the blood-borne parasite. "Our funders from the public and private sector have supported this project for years and we are delighted to see it come to fruition," said Dr. Aled Edwards, Chief Executive at the SGC.
Global Health Research Initiative Milestones 2000-11
$71 million invested by all partners for approved research programs (2001-15).
10+ research programs (such as Teasdale-Corti) funded since 2001.
129 global health research projects funded.
1,000+ research networks established (including 257 Canadian researchers).
62 Canadian research institutions and universities participating.
67 countries involved.
339 research settings in Canada, Africa, Asia, the Middle East, Latin America and the Caribbean.
Date modified: