Presidents' mCTA announcement letter
[ Model Clinical Trial Template Agreement (mCTA) ]
Dear Colleagues,
It is a great pleasure to announce that for the first time in Canada, a model Clinical Trial Template Agreement (mCTA) has been proposed for pilot purposes in negotiating regular (non-exceptional) Phase II and Phase III single and multisite clinical trial agreements between sponsors, clinical sites, and principal investigators. The template is a direct response to calls from the field for such a resource and we are delighted to provide this draft for pilot test purposes.
Prior to describing the pilot, we would like to acknowledge the members of ACAHO and Rx&D who have worked together on drafting the mCTA for pilot purposes. They have dedicated an incredible amount of time, expertise and goodwill in proposing a template that we all believe will be an excellent starting point. While the team has worked very diligently to represent the broadest cross section of interests and to propose solutions to traditionally complex issues, they have advised us that the only way to truly ascertain and improve the agreement at this point is to allow the field to test it out.
To this end, we would like to invite all members of ACAHO and Rx&D to participate in a 6 month pilot, from October 1, 2011, to March 31, 2012. During this period, we will ask you to please use this template as the basis of your clinical trial agreement negotiations. You can of course modify the mCTA for the purposes of the actual agreement that you sign, however, we would ask that you limit changes to only what is absolutely necessary, and note these items in the attached forms that we will then ask you to return to CIHR. This will allow us to objectively assess what elements of the template need to be changed in order to accommodate the needs and interests of all parties.
Ultimately, our goal is to simplify and expedite the start-up times for clinical trials in Canada. Doing so will bring us one step closer towards increasing the attractiveness of Canadian clinical trial sites as preferred partners internationally for clinical trials, and ultimately continue to bring human, social and economic benefits to all.
We would like to thank you in advance for your support and input into this pilot period. If your organization is intending to participate, we would like to recognize this publicly on the CIHR, ACAHO and Rx&D websites. Please advise CIHR so that we may name your organization as a pilot participant on our respective websites.
We look forward to your feedback and participation in this exciting initiative.
Russell Williams
President
Rx&D

Alain Beaudet, MD, PhD
President
CIHR

Glenn G. Brimacombe
President & CEO
ACAHO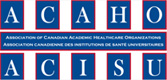 Modified: