Executive Management Committee
Chief Scientific Officer and Vice-President, Research, Knowledge Translation and Ethics
Dr. Jane E. Aubin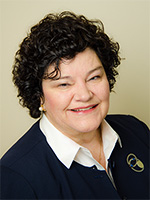 As Chief Scientific Officer, Dr. Jane E. Aubin oversees scientific affairs at CIHR and provides expert advice on matters relevant to science and technology, potential opportunities and emerging orientations and trends in the national and international health research community. As Vice-President, Research, Knowledge Translation and Ethics Portfolio, she is also responsible for all aspects of adjudication of grants and awards at CIHR, and finally, as a member of the Science Council, she participates in the development, implementation and reporting on CIHR's research and knowledge translation strategy.
Dr. Aubin is currently a member of the Faculty of Medicine at the University of Toronto, where she is Professor of Molecular Genetics and the Director of the Bone Program in the Centre for Modeling Human Disease. She has been Scientific Director and CEO of the Canadian Arthritis Network of Centres of Excellence and, for the past four years, Scientific Director of CIHR Institute of Musculoskeletal Health and Arthritis (IMHA). During her time as Scientific Director of IMHA, Dr. Aubin has shown outstanding leadership qualities and an unwavering commitment to working with others to improve the health and quality of life of patients with arthritis, musculoskeletal, oral and skin conditions.
Dr. Aubin received a B.Sc. (Hons; Chemistry and Mathematics) and the Gold Medal in Chemistry at Queen's University in Kingston. She then completed her Ph.D. in Medical Biophysics at the University of Toronto. She later did her postdoctoral training in Molecular Biology and Biochemistry at the Max Planck Institute for Biophysical Chemistry in Goettingen, Germany.
Email: VPResearch@cihr-irsc.gc.ca
Date modified: