Research Profiles – I Promote Health!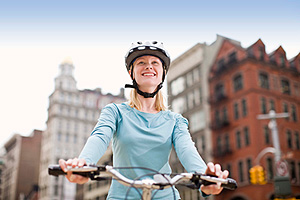 What makes us healthy? It's more than just doctor appointments and trips to the pharmacy. Do you live near a park? Do you bike to work? What are your city's policies on housing, or the use of public space? If we broaden our view of what health work is, and who can have an impact on our health, we will find opportunities to promote health and prevent illness all around us.
Researchers in a wide range of fields are studying how the communities we live in and the small choices we make on a day-to-day basis can affect our health. The profiles below highlight three exciting examples of population-level research that is changing the way we view health.
Street Smart, Health Wise: Dr. Cheryl Forchuk partners with homeless youth and the City of London, Ontario, to study the effectiveness of different housing policies.
Health Research in the Bike Lane: Dr. Lise Gauvin and her team examine the implementation and impact of the BIXI bike-sharing program in Montreal.
Pets, Parks and Public Health: Dr. Melanie Rock and her colleagues examine the introduction of off-leash designations in Calgary parks.