Research Profile – HIV, Hepatitis C and Hunger
A large proportion of people with HIV-hepatitis C co-infection have low access to regular meals.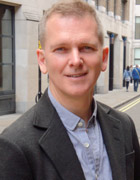 Dr. Joseph Cox
A long-term study of people infected with HIV and hepatitis C virus (HCV) may help researchers understand something even more basic to health – lack of access to adequate amounts of nutritious food.
Launched in 2002, the Canadian Co-Infection Cohort (CCC) is being led by researchers from 18 centres across Canada. They are following 1,050 people infected with both HIV and HCV to determine how HIV affects the progression of liver disease. Chronic HCV infection can lead to long-term deterioration of the liver.
As with any disease, lack of good nutrition can adversely affect the health of someone with HIV-HCV co-infection, according to Dr. Joseph Cox, assistant professor of medicine and epidemiology at McGill University. He works with Dr. Anne-Marie Hamelin, co-principal investigator on this project.
"We believe food insecurity is quite high among the HIV-infected population. In fact, a study from BC suggests it may be as high as 70% for people living with HIV, meaning these people simply don't have access to sufficient amounts of food," says Dr. Cox. While it appears that food insecurity is high in this population, it has never been studied in the co-infected population and hasn't been studied over time.
Of the approximately 12,000 Canadians living with HIV-HCV co-infection, a large percentage have substance abuse disorders.
"The HIV population now has a much higher rate of people with addiction problems including a history of intravenous drug use," he says.
The researchers want to answer a series of questions, including how food insecurity fits in this population, how it relates to personal behaviours, quality of life, and how it affects HIV- and HCV-related outcomes and overall health.
CCC researchers already have an infrastructure set-up in which they visit with participants every six months to collect information about their overall health. Dr. Cox's group is adding a questionnaire, based on the Canadian Community Health Survey food security questionnaire, to the existing health assessment. They plan to follow participants for two years.
"We'll look at the interplay between food insecurity, health care utilization and whether or not people are taking medications for HIV or receiving treatment for hepatitis C. We'll also look at relationships between food insecurity and the occurrence of other co-morbidities – illnesses such as depression, psychiatric illnesses, perhaps AIDS-defining illnesses and cirrhosis because of hepatitis C," says Dr. Cox.
The researchers are hoping to find clues and ideas for interventions that will eventually help this population become more food secure. Over time, researchers may see some people shift from not getting enough meals or food to becoming food secure.
"Perhaps we can understand how they've been able to do that, and what can help them have a transition from food insecurity to be food secure? Would such transitions be related to a change in housing, or a change with respect to behaviours, or access to rehabilitation or addiction programs?"
As part of the project, researchers will also do more detailed, qualitative interviews with 20 people in three cities: Montreal, Toronto and Vancouver. The idea behind these interviews is to try to understand in a more thorough way why there is an association between HIV infection and food insecurity. At this point, the questionnaire has been developed and tested, and recruitment has started at McGill. Other CCC sites are expected to begin interviews later in 2013.
"We believe food insecurity is quite high among the HIV-infected population. In fact, a study from BC suggests it may be as high as 70% for people living with HIV, meaning these people simply don't have access to sufficient amounts of food."
– Dr. Joseph Cox, McGill University
Date modified: