IAPH Newsletter – March 2014
Inside this Issue:
---
Message from Dr Malcolm King, IAPH Scientific Director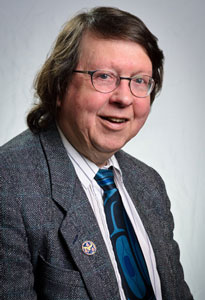 Warm Spring greetings from sunny Coast Salish territory.
As Spring nears and our network is looking forward to a variety of events and gatherings over the next few months, I wanted to take the opportunity to reiterate that the Institute is fully committed to continuing to provide for and support mentorship activities and opportunities. Aligning with our new Strategic Plan, the Institute seeks to drive the Indigenous health research agenda by mentoring and training the current cadre of trainees and the up and coming generation of Indigenous researchers for academia, government, industry and community. With this, we are looking at options that will build on the remarkable work the NEAHRs have done to date, such as the annual National Gathering of Graduate Students, and continue supporting similar events and gatherings that cover the full spectrum of graduate studies in Indigenous health, from Masters students to established early researchers. Furthermore, we are also going to build on the Indigenous Mentorship Workshop, a joint initiative of the Canadian Institutes of Health Research (CIHR), the New Zealand Health Research Council (HRC), and the Australian National Health and Medical Research which took place on May 23-24, 2013 in Melbourne, Australia.
Coupled with this, the Institute wants to play a pivotal role in increasing the inclusion of Indigenous ways of knowing and the numbers of Indigenous researchers in IAPH-funded research and mentorship activities.
I would like to invite your perspectives and to share ideas on possibilities around mentorship activities, specifically ideas on how to increase the number of Indigenous trainees and New Investigators; increase the success of Indigenous trainees in becoming independent researchers; increase the impact of Indigenous research, and ultimately achieving wellness, strength and resilience for all Indigenous Peoples.
Malcolm King, PhD
---
Applying Indigenous Approaches and Community Action to Pathways Implementation Research Teams
As you may know, funding opportunities for implementation research teams (IRTs) have been launched for the CIHR signature initiative, Pathways to Health Equity for Aboriginal Peoples. On a recent call for expressions of interest, we received a number of submissions in each of the four exemplar areas, namely tuberculosis, oral health, suicide, and diabetes/obesity.
IAPH firmly believes that implementation research in these four exemplar areas would benefit from applying Indigenous knowledge approaches conducting research and through a lens of upstream/social determinants. There are many researchers in our community who have the knowledge base and skills in these areas, without necessarily having specific disease-exemplar expertise. We would like to encourage Indigenous researchers to take advantage of this great opportunity to bring together contributions from western and Indigenous sciences in a synergistic fashion to tackle the underlying factors and determinants of these exemplars. These synergistic approaches will also provide community capacity building and, we believe, an increased potential to address these exemplars in a holistic fashion, since many downstream health issues have common upstream origins.
IAPH and our Pathways partners in CIHR will be holding webinars and workshops about Pathways IRTs over the coming months. Please consider getting involved in an Implementation Research Team application, even if you're not an expert on diabetes/obesity, suicide, tuberculosis or oral health. Pathways implementation research needs experts on the social and cultural determinants of health, on historical trauma, governance, community engagement, and on the application of Indigenous knowledge to solving health problems through promoting resilience and wellness.
---
Project Profile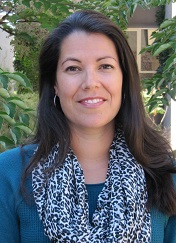 "Gifts from the Elders"
Chantelle Richmond
Assistant Professor, First Nations Studies & Department of Family Medicine
Western University
IAPH is excited to share news of a 60 minute documentary, entitled "Gifts from the Elders", produced from a three-year CIHR-IAPH grant (2010-2013) by Dr. Chantelle Richmond, an Anishinaabe scholar from Pic River First Nation who studies the social and environmental determinants of Indigenous health at Western University. The project team is comprised of researchers and students from Western and Lakehead universities who all have experience working with Indigenous Peoples.
Written and produced with Director James Fortier, the documentary follows five young adults from two Anishinaabe communities on Lake Superior, the Batchewana First Nation of Ojibways and the Ojibways of the Pic River First Nation. The youth were hired as summer field researchers for a comprehensive land and health study and tell their stories of learning from their Elders. In keeping with Anishinaabe knowledge, the film explores the relationship between the health of the land and the health of the community, affirming that deep spiritual relatedness between people and the land provides a healthy basis for culture, kinship systems, traditional ways of living, and overall well-being.
The film, and research project it falls under, is a means of bringing the stories of Anishinaabe communities to the wider public, with the goal of inspiring other young Indigenous Peoples and communities to value their experiences and the impact of sharing them. Chantelle's memories of Pic River's water being contaminated by a local gold mine, and her knowledge of other recent and current occurrences of environmental racism and dispossession, inspired her to tell these stories and create more understanding about Indigenous Peoples' vulnerabilities to environmental change – including their resiliencies to overcome such challenges.
Director James M. Fortier also has a connection to Pic River through his grandmother, and his fascination and curiosity with his Anishinaabe roots and Ojibwe culture ultimately, and somewhat indirectly, led him to the making of this film. James hopes viewers gain an understanding and reaffirmation of the importance of sharing stories; the necessity to tell our own stories, to pass on stories, knowledge, and experiences of our Elders and communities with honour, respect, love, and truth. As he says, "Culture is lost when we lose the power and craft of storytelling."
The medium of film greatly increases potential for knowledge translation and policy uptake. Since the film's release in June 2013, Chantelle and James have been interviewed by the CBC and other Canadian media. In February 2014, the film was screened on the PBS station in the United States and received official selection at the American Indian Film Festival and the LA Skins Film Festival. Just this month, the Film was awarded a 2014 Telly award, which honours the very best in film and video production. For more information about the larger research project, and to view the film, go to: www.giftsfromtheelders.ca.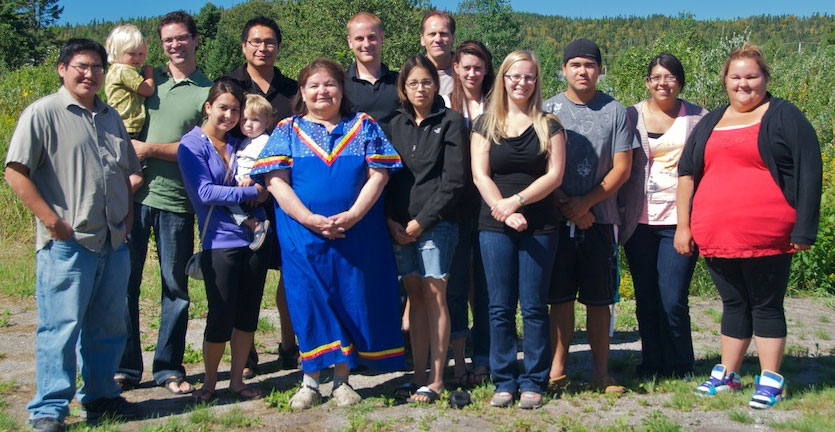 Study team — from left to right: Henry Beardy, Oliver & Robert Stewart, Samantha & Thomas Boyer, Jason Hunter, Patricia Desmoulins, Joshua Tobias, Shannon Courchene, James Fortier, Amanda Lino, Kassandra Kulmann, Harley Syrette, Raven Courchene, Dayna-lee Crosson
---
Mentorship / Trainee Corner
Additional information on letters of support
Last month, we shared an article about writing excellent Letters of Support. In relation to this, we wish to direct you to a Knowledge Translation page on the CIHR website where additional information can be found on this subject.
---
Aboriginal Food Security in Northern Canada: An assessment of the State of the Knowledge
IAPH would like to draw your attention to the recently published assessment of the state of knowledge on Aboriginal food security in Northern Canada. People interested in food security issues affecting Indigenous Peoples will want to read this publication. An Expert Panel, led by Harriet Kuhnlein, was convened by The Council of Canadian Academies. Many researchers working in the IAPH community were also members of the expert panel. The report identified many knowledge gaps which we encourage the research community to consider when applying to CIHR.
---
CIHR News
Ethics Reform at CIHR: Update
At its February 2014 meeting, The CIHR Governing Council (GC) concluded its discussion about the best approaches to reinforce CIHR's role in ethics. GC unanimously approved: (1) a new and expanded mandate and membership for its Standing Committee on Ethics (SCE); and (2) a detailed management response to the recommendations of the Task Force on Ethics Reform at CIHR. These improvements will enable CIHR to better deliver on its ethics mandate as set out in the CIHR Act. You can fine the Message from the President and the CIHR Management Response to the Report of the Task Force on Ethics Reform online.
Registration to 2014 Foundation Scheme Pilot
Researchers who are eligible to apply to the 2014 Foundation Scheme 1st Live Pilot may begin registration to this competition through ResearchNet. Registration will stay open until June 23, 2014. As this is a new funding opportunity, we encourage you to refer to the registration instructions available online.
Please visit the CIHR website to learn more about the CIHR Reforms of Open Programs and peer review.
CIHR Partnership Award Nominations 2014
The CIHR Partnership Award annually recognizes a partnership that exemplifies excellence. The recipients receive a $25,000 award in the form of a one-year research grant for advancing the research or knowledge translation activities of the partnership.
These partnerships involve organizations from the private, voluntary or public sectors. They bring health research communities together:
to create innovative approaches to research questions;
to develop research agendas that are responsive to the health needs, concerns and priorities of Canadians and/or the global community; and
to accelerate the translation of knowledge for the benefit of Canadians and/or the global community.
The deadline for nominations is May 1, 2014. Faxed nomination packages will not be accepted. Details on the eligibility and selection criteria are available on the CIHR website.
For questions about the award please contact: Claire Belanger, Partnerships & Business Development.
---
Upcoming Conferences
6th International Meeting on Indigenous Child Health: "Resilience: Our ancestors' legacy, our children's strength"
March 20-22, 2015 (Ottawa, ON)
Join the Canadian Paediatric Society and the American Academy of Pediatrics, in cooperation with the Indian Health Service and the First Nations and Inuit Health Branch—Health Canada, for the 6th International Meeting on Indigenous Child Health. Child health providers and researchers dedicated to working with American Indian, Alaska Native, First Nations, Inuit, and Métis children and families are encouraged to attend. Participants will have the opportunity to share model programs and research, and develop practical skills that can be utilized in community settings.
Deadline for workshop proposal submission: May 12, 2014
Deadline for abstract submission: November 3, 2014
Public Health 2014
May 26-29, 2014 (Toronto, ON)
The Canadian Public Health Association's annual conference celebrates over 100 years of public health advancements and is the must-attend conference for the public health community. Public Health 2014 plays a critical role in the public health research, practice and policy environments by providing a national forum for discussing what works in public health.
Pre-registration deadline: May 9, 2014
Look for the CIHR Session on Population health approaches to diabetes prevention.
---
Write to us!
IAPH welcomes researchers, partners and other stakeholders to share news stories that relate to areas of our mandate. If you have interesting research results or developments, are organizing a conference or workshop, or wish to report on a past event, we would like to feature them in our newsletter or other communication materials.
Have a comment? Please share it with us! You can also write to subscribe or unsubscribe to our Newsletter. Simply send us an e-mail at: IAPH.ISA@cihr-irsc.gc.ca.
Date modified: