A Portfolio for Health Innovation – Canadian Institutes of Health Research Annual Report 2013–14
Reality Starts Here
Implementing and Scaling Up Promising Innovations
One of CIHR's key priorities is to use research to apply and scale up innovations that have been demonstrated to improve health or health care delivery. Through investments and partnership building, CIHR supports research efforts to help drive the commercialization of innovative new products and services. The organization also directs new investments into targeted research studying factors that lead to successful implementation of health treatments, new models of care, or clinical procedures.
In June 2013, former Health Minister Leona Aglukkaq announced 11 research teams that have been funded through the Community-Based Primary Health Care signature initiative. As part of their research, the teams will explore key issues about how to deliver and scale up health care services in settings outside the hospital.
Innovative treatments and care models also require cutting-edge health care policies to ensure they are put to use. CIHR provides value through investments into policy research focused on implementation, and through the creation of decision-support tools to help guide policy choices within provincial and territorial health authorities. In May 2013, B.C.'s Michael Smith Foundation for Health Research was the latest to join 18 other organizations in Canada – federal, provincial and territorial health care authorities and other health care stakeholders – as a partner in the Evidence-Informed Healthcare Renewal portal. The portal is a continually updated database of materials that address health care renewal in Canada. The documents address priority areas identified by Canadian federal, provincial and territorial governments, such as primary health care, patient safety, health system human resources and performance indicators (e.g. timely access).
To support the effective application of health research, we also have to rethink the kinds of research questions that we ask, as well as the way we design and pursue research programs. For example, in the past fiscal year, across a number of diverse research areas, CIHR began holding innovative new "strengthening" workshops designed to promote discussion among researchers, partners and patients about how the results of the research – and possibly the process of doing the research itself – will be used, and by whom, before the research even begins. This approach creates a highly valuable layer of reflection about how to advance research outcomes toward real-world impact, beginning with the research process itself being one of the keys to successful implementation.
The new SPOR network in Transformational Research in Adolescent Mental Health used this approach, joining seven prospective research teams, international experts with experience in running similar networks, and members of the peer review group. This peer review team included three youth members, each of whom had direct experience with the mental health system.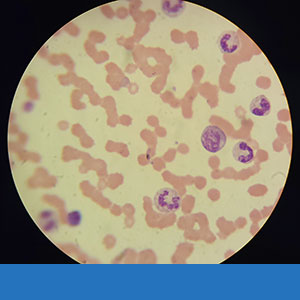 Taking Malaria Testing Out of the Lab
Academia and industry are coming together to develop a faster, more efficient malaria test. Dr. Stephanie Yanow of the University of Alberta and the Alberta Provincial Laboratory for Public Health has developed a plastic lab-on-a-chip that can be used in a clinic setting to diagnose deadly infectious diseases like malaria, which is caused by parasites from the Plasmodium family, such as Plasmodium falciparum (see above). The chip measures only 30 mm by 30 mm but can test up to eight samples at once. It uses a technology known as "hydrogel PCR," which can detect DNA from disease-causing pathogens in a patient's blood sample. This type of fast, portable diagnostic tool could be particularly useful in parts of the world where diseases such as malaria are common and medical resources are limited. Dr. Yanow is partnering with an Edmonton-based start-up called Aquila Diagnostic Systems Inc. to bring the device to market. Their next step toward commercialization will be a pilot project with the Foundation for Innovative New Diagnostics to test the performance of the device in daily use in a clinic in Uganda.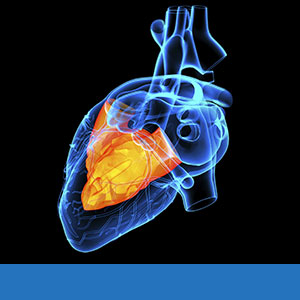 Scaling Up Community-Based Programs to Reduce Cardiovascular Risk
Dr. Janusz Kaczorowski of the University of Montreal is working to implement programs designed to improve management of cardiovascular disease (CVD) in entire communities, not just individual patients. Dr. Kaczorowski's earlier work showed that connecting community resources and agencies with family physicians and pharmacists in a collaborative and integrative way can significantly reduce the burden of CVD in a community. One study, the Cardiovascular Health Awareness Program (CHAP), used trained volunteers to do heart disease risk assessments for people living in randomly selected Ontario communities. The awareness-raising program led to a 9% annual reduction in hospital admissions for heart attacks, congestive heart failure and stroke in communities that received CHAP. Dr. Kaczorowski's next step is to determine how CHAP can be scaled up and made available to all Canadians to significantly improve community- and population-based prevention and management of heart disease. He and his colleagues are starting a five-year, CIHR-funded research program (C-ChAMP) to further refine their approach and identify the conditions necessary for successful scale-up.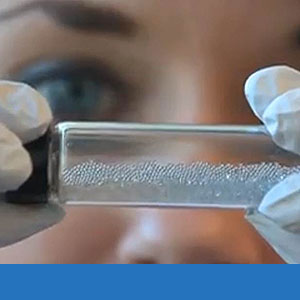 Developing a Safe and Easy Treatment for Uterine Fibroids
Dr. Daniel Boyd of Dalhousie University has developed an innovative material to improve the treatment of uterine fibroids. These benign tumours affect an estimated 70% of premenopausal women and are one of the main reasons that women undergo a hysterectomy (removal of the uterus). A newer treatment for uterine fibroids, known as embolization, has shown great promise. Embolization is a minimally invasive procedure that involves injecting tiny particles into the blood vessels feeding the fibroids, cutting off their blood supply and causing them to shrink. However, conventional particles cannot be detected by X-ray, making it difficult for doctors to ensure that the implanted particles are correctly distributed in the target tissue. Dr. Boyd has developed a new material called OccluRad (see above) – tiny biocompatible beads that are fully visible under X-ray and as such will enable doctors to understand the spatial distribution of embolic beads in a target tissue. His research has demonstrated that the beads can be used safely and successfully in embolization procedures. In collaboration with Dr. Bob Abraham, Dr. Boyd founded ABK Biomedical Inc. to commercialize OccluRad. Their product could be ready for market as soon as fall 2014. Photo courtesy of CTV ATLANTIC.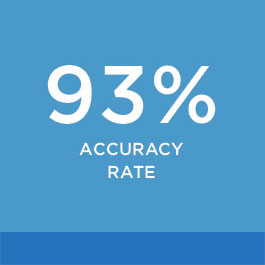 Partnering with Pharmacists to Detect Osteoarthritis
A new screening program launched at Shoppers Drug Mart/Pharmaprix stores across Canada will help identify people with early-stage osteoarthritis. The result of a partnership between the Arthritis Research Centre of Canada (ARC), Arthritis Consumer Experts (ACE) and Shoppers Drug Mart, the program will be administered by pharmacists. Osteoarthritis tends to be diagnosed too late, after irreversible damage has been done to the patient's joints. If the disease is detected early, however, people can take steps to reduce or prevent future disability. One of the screening tools, a questionnaire based on early-stage CIHR-supported research by Dr. Jolanda Cibere of the University of British Columbia (UBC), takes only a few minutes to complete. In a CIHR-funded pilot led Dr. Carlo Marra, professor of pharmacy at UBC and an ARC research scientist, patients who tested positive were then sent to a specialist for a formal medical evaluation. The pharmacists were correct over 93% of the time, showing that the program is highly effective. In addition to helping diagnose patients, the screening program promises to ease the burden of osteoarthritis on the Canadian health care system.
Date modified: