Startup Canada's Entrepreneur of the Year Award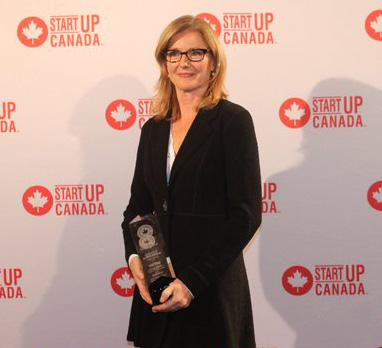 Ms. Natalie Dakers
President and CEO of Accel-Rx and CDRD Venture Inc.
Photo Credit: Photo courtesy of Debbie Bortolussi.
2015 Recipient - Natalie Dakers: Catalyst for Success
November 15, 2015
At the helm of Accel-Rx, one of Canada's premier corporate accelerators, Ms. Natalie Dakers is breaking new ground by incubating new and early-stage Canadian health sciences companies. Harnessing her knowledge of business and science to propel innovation, she has become a leader, spurring the transition of viable concepts from the laboratory to the critical proof-of-concept state, a must to attracting venture capital.
Along with a healthy dose of optimism, Ms. Dakers knows that it takes hard work – lots of hard work – to steward a new discovery along the pathway from concept to commercialization. Incubating a new discovery or a cutting-edge idea requires an investment of approximately 4-5 years before it is ready to launch. However, this investment of time is crucial to maintaining Canada's position as a global leader in innovation.
Enter the collaboratively funded Networks of Centres of Excellence (NCE).
This strategic, joint initiative of the Canadian Institutes of Health Research (CIHR), the Natural Sciences and Engineering Research Council (NSERC), and the Social Sciences and Humanities Research Council (SSHRC) offers a full-suite of programs that spans the gap between innovation and economic opportunity. It is currently funding 46 networks and centres, including Accel-Rx; a Centre of Excellence for Commercialization and Research (CECR).
These non-profit corporations serve as a driver that power the synergy needed to bring new technologies to market faster. Created by post-secondary educational institutions, a non-profit research organization, company or other interested private-sector entity, a CECR like Accel-Rx connects the dots, fusing innovators with the resources they need.
Ms. Natalie Dakers is passionate about adding value when health sciences opportunities present themselves to Accel-Rx and her dedication to stimulating growth in the area of drug development has garnered national attention. Winner of the 2015 Startup Canada's national Entrepreneur of the Year and the regional winner in the same category for British Columbia and the North, she is passionate about her role as a champion and is equally optimistic about the future of Canadian innovators.
Like Natalie Dakers, the Canadian Institutes of Health Research (CIHR) understands the value of transitioning innovation from the laboratory to the marketplace. It is a fitting tribute that this visionary be awarded Startup Canada's 2015 National Entrepreneur of the Year Award to add to her earlier honour as the regional winner in the same category for British Columbia and the North. Congratulations on this well-deserved honour!
Associated links
Date modified: