Mrs. Aline Girard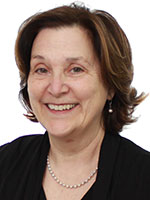 Affiliation
Honorary Professor, HEC Montréal
Committee membership
CIHR Audit Committee
Biography
Aline Girard is honorary professor from HEC Montreal. She holds a Ph.D. in Accounting from the University of Tennessee (Knoxville) and an MBA from HEC Montreal. Her work and studies have received grants and funding from various organizations, including the Social Sciences and Humanities Research Council of Canada, the CGA-Canada Research Foundation and HEC Montreal. She is a member of l'Ordre des comptables professionnels agréés du Québec.
Mrs Girard has acquired many years of experience in auditing, teaching, research and consulting. As accounting professional, her mandates have been as varied as participating and coordinating the implementation of accounting information systems, implementing modern accounting software, preparing annual financial statements and various financial reports, and performing external audits.
Her teaching has been focussed on financial accounting, among others accounting to non-profit and public-sector organizations. She has taught at all levels, undergraduate, Master's and Doctorate, and also worked in continuing education for various administration and accounting specialists.
Mrs Girard has concentrated her work/interest on the communication of accounting information in financial reports. She has published in scientific and professional journals and has written a number of working papers on various subjects in financial accounting. Furthermore, she has given conferences before various professional and scientific societies in Canada, the United States and Europe.
Mrs Girard has been involved with the Canadian Institute of Chartered Accountants - CICA (now Chartered Professional Accountants – CPA- Canada) in different ways. She has served on several research committees governed by the Research Studies Department and on the Board of Evaluators for the national Uniform final examination.
Mrs Girard has served eight years on the Departmental Audit Committee of Parks Canada Agency. She currently serves on the Departmental Audit Committee of the Canadian Spatial Agency.
Date modified: