CIHR Health Research Training Investments
The Canadian Institutes of Health Research (CIHR) strives to ensure a strong foundation of future health research leaders, and is committed to offering programs that increase the supply of highly-qualified research personnel.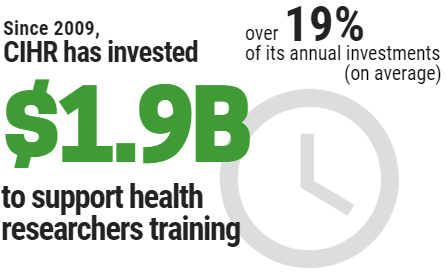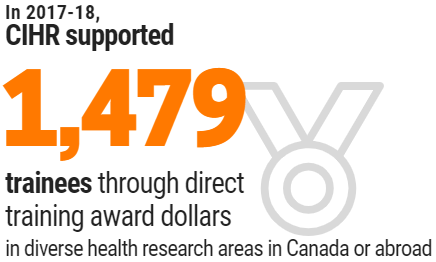 CIHR embraces a mutli-pronged approach to health research training.
Since 2007, CIHR has more than doubled its support for health research trainees.
CIHR Institutes have been at the forefront of training innovation within their communities.
CIHR is committed to making important investments in health research training.
In 2016-2017, CIHR invested ≈ $53M/year through direct awards to trainees in diverse health research areas in Canada and abroad.
In 2016-2017, CIHR invested ≈ $108M/year to indirectly support trainees through stipends paid off of operating grants and strategic training programs.
Canada Graduate Scholarships (CGS) for Masters and Doctoral students (including the Vanier-CGS).
Fellowship programs for postdoctoral fellows (including Banting).
Awards in targeted areas (e.g., Fellowship in Epigenetics, Fellowships within the Clinical Trials Networks in the U.S., etc.).
Date modified: