Strategy for Patient-Oriented Research
Canada's Strategy for Patient-Oriented Research (SPOR) is about ensuring that the right patient receives the right intervention at the right time.
Patient-oriented research refers to a continuum of research that engages patients as partners, focusses on patient-identified priorities and improves patient outcomes. This research, conducted by multidisciplinary teams in partnership with relevant stakeholders, aims to apply the knowledge generated to improve healthcare systems and practices.
The objective of SPOR is to foster evidence-informed health care by bringing innovative diagnostic and therapeutic approaches to the point of care, so as to ensure greater quality, accountability, and accessibility of care.
SPOR is a coalition of federal, provincial and territorial partners – all dedicated to the integration of research into care:
patients and caregivers
researchers
health practitioners
policy makers
provincial/territorial health authorities
academic institutions
charities
private sector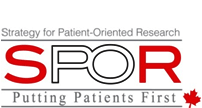 Date modified: