Ethics, social determinants of health, and health equity
Integrating theory and practice
Institutions
McGill University
Université de Montréal
McGill Institute for Health and Social Policy
McGill Measurement, Ethics & Decision-making Collaborative
Nominated Principal Investigator
Program team

Co-investigators

Matthew Hunt
Kristin Voigt
Ryoa Chung
Sam Harper
Iwao Hirose
Meredith Young

Current postdoctoral fellows

Anat Rosenthal
Gry Wester
Jurgen de Wispelaere

Past postdoctoral fellows

Laura Bisaillon
Kristin Voigt
Adina Preda
Research objective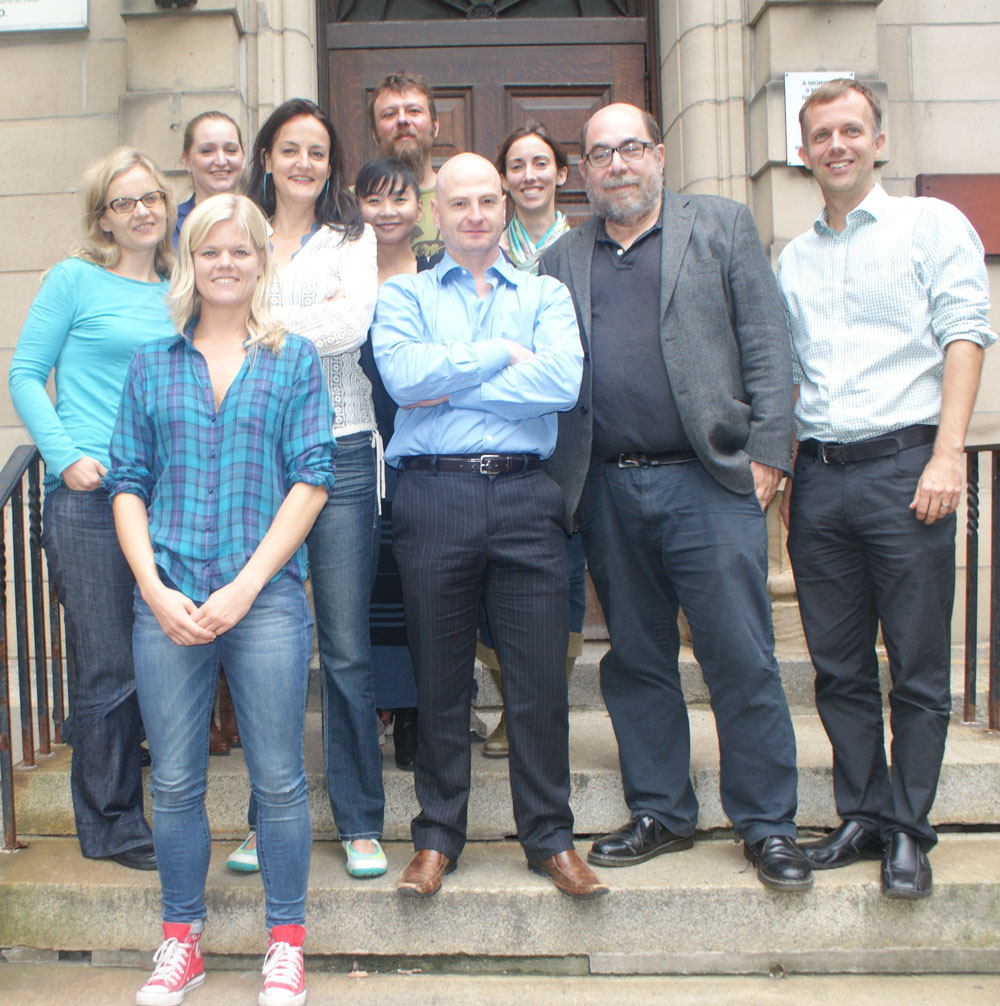 First step: Gry Wester
Second step: Kristin Voigt Laura Bisaillon, Nicholas King, Daniel Weinstock, Matthew Hunt
Back step: Meredith Young, Ryoa Chung , Jurgen De Wispelaere, Erin Moores (project manager).
Missing: Sam Harper, Anat Rosenthal, Iwao Hirose.
Using this grant, we have established the Montreal Health Equity Research Consortium (MHERC), a multidisciplinary group of researchers from McGill University and the Université de Montréal. MHERC supports postdoctoral training and a number of interlinked projects, with the following objectives:
To investigate the conceptual and ethical foundations underlying research into SDH and health inequalities, and to assess the ethical implications of public health policies and interventions that target SDH and health inequalities.
To empirically investigate how particular policies, measurement strategies, framing effects, prioritization schemes, and public health interventions impact health and health equity.
To produce a cadre of scholars in the methodologies necessary to address the conceptual and ethical foundations, and ethical implications of SDH research, through extensive interdisciplinary training of graduate students and postdoctoral fellows.
Approach
This research program uses a multidisciplinary, mixed-methodology approach to address its objectives. It features a multidisciplinary team of researchers and knowledge-users, including philosophers, ethicists, epidemiologists, cognitive psychologists, and public health professionals. It consists of ten linked research projects organized into two research arms: a "theory" arm, led by Dr. Weinstock and comprising four philosophical investigations; and a "practice" arm, led by Dr. King and comprising five empirical research projects.
Members of the team, at the same time as they carry out the individual studies for which they are principally responsible, have been "cross-appointed" to one or several of the projects lying on the other side of the theory/practice "divide." The input that each of the studies requires from other disciplines has been contributed from the outset: cross-appointed members have equal responsibility in framing research hypotheses, designing empirical studies, and developing arguments germane to the completion of studies lying on the other side of the theory/practice divide.
Project update: How can we train the next generation to study the ethical implications of research on the social determinants of health?
Our understanding of the influences of the social determinants of health (SDH) has grown. The ways in which socio-economic status, location, and education can affect health outcomes are clearer. The result is increasing calls for social policies that effectively address SDH and health inequalities. While there is broad agreement that reducing health inequalities should be an important goal of public policy and population health interventions, there has been little research conducted on the ethical foundations for prioritizing such approaches. In some cases, the policies and interventions geared toward reducing health inequalities may be less effective or efficient than ones aimed at improving overall population health. So, how should we weigh equity against efficiency? Which populations, sub-populations, and health conditions should we prioritize to address health inequalities? What sort of ethical framework should guide these decisions, and where do differing theories of social justice fit in?
Dr. Daniel Weinstock and his team at the Montreal Health Equity Research Consortium (MHERC) are grappling with the questions about the conceptual and ethical dilemmas underlying research in SDH and health equity. To advance their research program, Dr. Weinstock and his colleagues have attracted a talented cadre of trainees—all of whom have received extensive interdisciplinary training in the methodologies necessary to address those big questions about SDH and health equity—to ensure that the program's methodology and approaches will be used by a new generation of researchers and across disciplines. In particular, the team has included seven postdoctoral fellows that were internationally diverse and represented multiple disciplinary backgrounds (including anthropology, philosophy, political theory, and quantitative health sciences). All fellows have benefited from mentorship and catalyst-style seed grant funding to establish new research projects, and three have moved on to secure tenure-track positions at world-class universities – an incredible indicator of enhanced capacity for this field.
Selected publications
Date modified: