INMHA Scientific Director: Dr. Anthony G. Phillips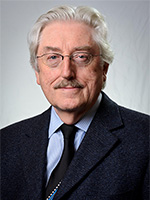 Founding Director, UBC Institute of Mental Health, Professor of Psychiatry and Senior Scientist in the University of British Columbia / Vancouver Coastal Health Brain Research Centre. Professor Phillips received his PhD in Psychology from the University of Western Ontario, under the mentorship of Gordon Mogenson and subsequently spent time in the laboratories of Elliot Valenstein and James Olds' at the Fels Research Institute and Division of Biology, California Institute of Technology, respectively. He joined the Department of Psychology at the University of British Columbia in 1970, was appointed Full Professor in 1980 and served as Head from 1994-1999. He subsequently joined the Department of Psychiatry, Faculty of Medicine UBC in 2000 and became Founding Director of the UBC Institute of Mental Health in 2005. Dr. Phillips served for two terms (2001-2007) as the inaugural Chair of Advisory Board for the CIHR Institute of Neurosciences, Mental Health and Addiction. Distinguished awards include: Canada Council Killam Senior Research Scholar, 1978-80; E.W.R. Steacie Fellow (NSERC), 1980-82. In 1986 he was elected a Fellow of the Royal Society of Canada and was also the recipient of an inaugural UBC Killam Research Prize. The Canadian Psychological Association honored him in 1995 with the Donald O. Hebb Award for 'Distinguished Contributions to Psychology as a Science'. In 1996, he was awarded the inaugural prize (with H.C. Fibiger) for 'Innovations in Neuropsychopharmacology' by the Canadian College of Neuropsychopharmacology (CCNP). The CCNP subsequently awarded Dr. Phillips the Heinz Lehmann Award for 2009, and the 2012 CCNP Medal for outstanding contributions to neuropsychopharmacology in Canada. In 2013 the UBC Faculty of Medicine awarded him the Bill and Marilyn Webber Lifetime Achievement Award.
Dr. Phillips' research interests are broadly based within the field of preclinical neuropsychopharmacology and systems neuroscience and he has published over 300 peer-reviewed articles and book chapters. His pioneering research, with H.C. Fibiger, laid the foundation for the role of dopamine in the neural control of motivation and memory, with its clinical implications for understanding biological correlates of addiction. He has a long-standing interest in applying knowledge concerning normal brain-behavior function to understanding the neural bases of mental illness and addiction. Dr. Phillips also played an important role in the evolution of the biotechnology industry in Canada, having been a Founding Director of QLT. He was elected as a Councilor (2008-12) for the Society for Neuroscience and currently serves as President (2012-14) of the Collegium Internationale Neuro-Psychopharamacologicum (CINP). 
Date modified: