IA Students and trainees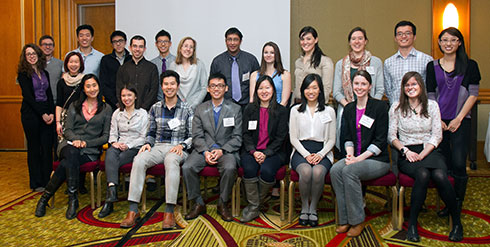 Photo: In April 2013, a group of young geriatric researchers from across Canada participated in The Canadian Geriatrics Society Annual Scientific Meeting. Their presence was supported by travel awards from the Canadian Institutes of Health Research. It was a great opportunity for the students to learn about emerging issues related to seniors, and network with leading experts.
The CIHR Institute of Aging is committed to building and strengthening Canadian health research capacity in the field of aging.
Various resources are provided below to encourage the next generation of health researchers in aging. These resources include links to IA prizes, funding opportunities, potential training environments, careers, etc.
IA Awards and Prizes
IA Summer Program
Funding
Useful Resources
For more information, please contact:
Associate, Strategic Initiatives
Sharon Nadeau
Tel: 613-946-1270
Fax: 613-954-1800
Email: sharon.nadeau@cihr-irsc.gc.ca
Date modified: