Dr. Gregory Steinberg
CIHR Gold Leaf Prize for Outstanding Achievements by an Early Career Investigator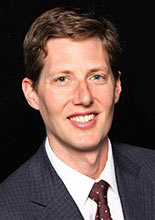 Dr. Gregory Steinberg is a Professor in the departments of Medicine and Biochemistry at McMaster University, a Canada Research Chair in Metabolism and Obesity, the J. Bruce Duncan Chair in Metabolic Diseases and the Co-Director of the Metabolism and Childhood Obesity Research Program at McMaster.
Dr. Steinberg's research is focused on understanding the molecular pathways controlling the metabolism of fat and sugars and how hormones such as insulin and serotonin regulate these effects. His translational research program has also revealed novel mechanisms by which exercise and commonly used medications improve health. His ultimate goals is to develop new preventative strategies and treatments for the interrelated metabolic diseases of obesity, type 2 diabetes, cardiovascular disease and non-alcoholic fatty liver disease.
Dr. Steinberg's work has great relevance for Canada, where 6 million people are obese and over 10 million people have diabetes or pre-diabetes.
Learn more: Dr. Gregory Steinberg, McMaster University Department of Medicine.
CIHR is committed to helping develop the next generation of great scientific minds. This prize is awarded to an investigator at the beginning of their career who shows great potential and is expected to continue to produce research of exceptional merit.
Transcript

Dr. Gregory Steinberg is the winner of the CIHR Gold Leaf Prize for Outstanding Achievements by an Early Career Investigator 2016.

In Canada, six million people are overweight or obese, and over three million people have diabetes. Driven to find a solution to this troubling problem, Dr. Steinberg is increasing our understanding, at the molecular level, of how obesity causes type 2 diabetes, as well as our understanding of the role that nutrition and exercise play in maintaining good health.

His ultimate goal is to develop medicines to treat insulin resistance and the hardening and narrowing of the arteries that can cause heart attacks and strokes.

Thank you, Dr. Steinberg, for your efforts to improve the health of Canadians living with diabetes.
Date modified: